Are you planning a Baby-Shower for your bestie, then you must know prior that it's not an easy task at all and there will be lots of hustle while managing all the things. You need to maintain some etiquettes and   have a foolproof plan of how everything is to be carried out.
Okay so this is a rundown on how to host a super special baby shower so you look like a super special best friend!You need to take care of the following things when hosting a baby shower:
Host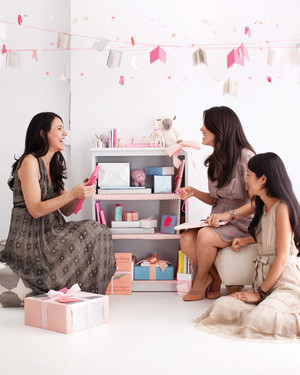 First of all it's necessary to decide who is going to throw Baby-Shower for the mum-to-be, generally if any family members throws the shower it is considered as bad manners. As it seems  parents on their own are asking for gifts. So, anyone who is a friend or relative can arrange a baby shower but not the parents itself. Here it's you a bestie so you are perfect for hosting a shower.
Date
A shower makes for a welcome diversion especially towards the end of the pregnancy. Besides it seems more real with mum-to-be touting a big belly.Although if your friends desires to have a baby shower after the baby is born, then that also seems good as the baby will be center of attraction and there'll be lot to discuss about.
You do need to consult the parents-to-be before finalising a date, as it will be heart breaking if after sending the invitations you'll find out that the  most important people have a schedule conflict.
Venue
The venue is the most important part of any occasion, and location is decided according to the number of guests invited. You can arrange the shower at parents-to-be's house but that will make them do extra efforts like cleaning up before the arrival of guests and after the event.So it'll be better to find something like community hall for hosting the event.
Invitation
Nowadays email-invitations are more suitable and will save the costs too, but if the requirement arises you can even send card-invitations to all the close ones. Do include what, where, when, whom and how in your invitation.
Send the invitations at least few weeks before the shower, so that the guests will be able to plan accordingly and buy the gifts on time.
Activities
Image Credits
Decide on what all you're going to do like the activities, fun games, dumb charades etc. , you may want to decide the theme to tie everything together. Arrange the extra stocks of food and drinks beforehand.
Budget
It'll be better to ask each guest to chip in if you don't wanna pay for the whole thing yourself. The return gifts, decoration, cake, venue, food, drinks etc. every factor must be considered when you are working out how much it'll add up to.
Also don't be clandestine about your efforts as this event is for mum-to-be and she needs to decide a lot of things according to her choice so that nothing goes off.Hopefully you'll be able to do everything according to the plan now, and make your friend happy about this special gift of your's.
Save
Tagged: Baby Shower Gifts